In this section...
Music
Intent
Why do we teach this? Why do we teach it in the way we do?
At Northbourne, we strive to provide an exciting and varied musical experience for all our children. We aim to encourage our children to develop a life-long love of music, giving them the opportunities to create, play and perform music through a variety of musical experiences. This not only develops their talent as musicians, but also increases their self-confidence, creativity, builds resilience, encourages collaboration and builds a strong sense of achievement.
We follow the specifications of the National Curriculum (2014); providing a broad and balanced curriculum, ensuring progressive development of musical concepts, knowledge and skills. The aims of the Music Curriculum are to ensure that all pupils:
perform, listen to, review and evaluate music across a range of historical periods , genres, styles and traditions, including the works of great composers and musicians
learn to sing and to use their voices, to create and compose music on their own and with others, have the opportunity to learn a musical instrument, use technology appropriately and have the opportunity to progress to the next level of musical excellence
understand and explore how music is created , produced and communicated, including through inter-related dimensions: pitch, duration, dynamics, tempo, timbre, texture, structure and appropriate music notations
Implementation
What do we teach? What does this look like?
Music teaching at Northbourne delivers the requirements of the National Curriculum through the 'Sparkyard' scheme of work, an "innovative, skills-based curriculum…where key musical concepts and themes are developed and revisited across the year groups, building on knowledge and understanding at every stage." (Sparkyard Music Curriculum). Teachers follow the suggested scheme of work although adaptions can be made for individual classes within the flexibility of the scheme.
Whole school singing is highly valued at Northbourne. We take pride in singing together and enjoy performing to others. During whole school singing practice, the children will develop the following skills and principles based on the Model Music Curriculum – from EYFS through to Year 6: warm ups, breathing, posture, dynamics, phrasing, context and vocal health. Performances include nativities (EYFS and KS1), Carol Services (KS2), Harvest and Easter services (whole school).
Within EYFS, music is an integral part of the children's learning journey. Children learn a wide range of songs and rhymes and develop skills for performing together. Singing and music making opportunities are used frequently to embed learning, develop musical awareness and to demonstrate how music can be used to express feelings.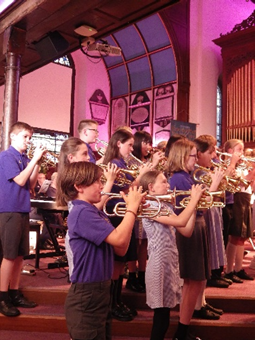 Our Upper Key Stage Two (Years 5 and 6) children have the opportunity to learn the cornet, benefiting from whole class specialist teaching, delivered by an experienced music teacher. We are very fortunate to be working with Kent Music for the provision of instruments and Deal Music and Arts, along with Bold As, who provide music day experiences for our children as well as opportunities to perform and take part in concerts twice a year. This gives the children a fantastic opportunity to play alongside experienced and professional musicians and is a truly memorable experience for them.
The school choir is open to KS1 and KS2 children and practises weekly. The choir focus on singing in unison, developing harmony and solo performances. They proudly assist leading the school in whole school singing practice and perform at a variety of school events and church services throughout the year.
Impact
What will this look like? By the time children leave our school they will:
Our aim is that through the teaching of the music curriculum at Northbourne, our children will demonstrate progression and build on their musical skills. We use the suggested assessment tools provided by 'Sparkyard' as well as pupil discussions about their learning, including whole school singing (pupil voice). By the end of each key stage, we expect the children to know, apply and understand the matters, skills and processes specified in the relevant programme of study, as stated by the National Curriculum. Performances are photographed, shared and celebrated within the school community; building confidence in the children and giving them a sense of pride in their music, encouraging them to develop their musical skills and knowledge further.