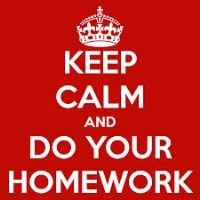 Help your child with Homework
Published 15/03/13
Children are usually given homework on a weekly basis. If you are unsure about what your child needs to complete, please ask your child's teacher.
If you would like to help your child with any extra challenges at home, why not try some of these ideas:
Reading - Children can always read a few extra pages of their reading books or library books:
Why not ask them a few questions to check their understanding of what they have read?
They could also write a book review to tell others what they think of the book.
Ask them to design a new cover for their book based on what they have read so far.
Mental Maths - Ask your child a few extra mental maths questions to review their numeracy skills:
Can they calculate the change from your last shopping bill?
Can they work out how long TV programs last by looking at the TV guide?
How long does it take them to recite / write down their times tables?
Daily Sudoku - Try our Daily Sudoku challenge. The puzzle changes every day, so why not print a few in advance and keep them ready if your child ever wants an extra challenge.
Superclubs Plus - Children in Years 2-6 can learn valuable ICT skills at www.superclubsplus.com. Why not ask your child to show you what they can do?
Have fun! Remember that our children work incredibly hard at school, so they deserve some free time to relax too!
Read More