In this section...
Healthy Lunchboxes
Here are a few ideas for your child's healthy lunchbox: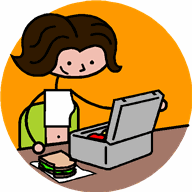 Carrot, cucumber and or bread sticks with a pot of houmous or tomato salsa.
Wraps or mini pitta breads with cheese or tuna mixed with grated carrot or sweetcorn.
Pasta salad.
Crackers and cheese.
Mini fresh fruit salad.
Yoghurts.
Rice pudding.
Popcorn.
Dried fruit, e.g. raisins, apricots.
Do you have any ideas of your own?
Please share them by adding a comment here!