In this section...
Visitors from CCCU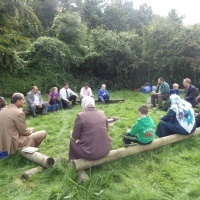 Tony Mahon, Senior Lecturer and International Lead from Canterbury Christchurch University contacted Mrs Fiona Crascall to arrange to view our school and on Wednesday 10 September we welcomed a host of visitors from Palestine and the Gaza Strip.
Our visitors included the Director General of the Ministry of Educations National Institute of Education and Training, nine academic staff from six universities in Palestine, four of which are the Deans of the Faculties of Education and three from Gaza.
They looked at teaching throughout the school with a focus on literacy, numeracy and science. They all spent time in classes and joined in with a Forest School Session. They were impressed with the excellent behaviour throughout our school and the way our pupils were assessing their own learning.
They had many questions. It was a very positive experience and links were made with schools in a contrasting culture and environment.