In this section...
Young Carers Summer Treat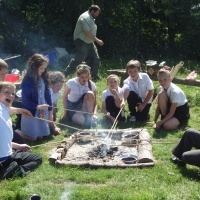 On Tuesday 2nd July a group of Young Carers from The Downs Primary School enjoyed an afternoon at Northbourne Primary School.
It was a beautiful sunny afternoon where the 10 children enjoyed a picnic lunch in the impressive school grounds.

After lunch Kevin Chidwick- Forest School Leader and site manager demonstrated how to create a 'wood cookie' which the children produced and took home as a souvenir. This was followed by a time around the campfire where the children were shown how to start a fire, boil water and make hot chocolate using Kelly Kettles followed by marshmallows! The afternoon was enjoyed by all and for some provided them with a welcome break from the stresses that helping to care for a family member can sometimes bring.
The Young Carers club meets at The Downs CEP each month from October to July every school year. This group is led by Cara Dalton, a teaching assistant from The Downs Primary School and is seen as a valuable resource for children who carry out additional responsibilities in the home to be ablle to support and encourage one another.
The children enjoyed the woodland session so much that another date has already been set for July 2015!
Thank you to Northbourne CE Primary for welcoming us and hosting such a fantastic event. We can't wait to come again.