In this section...
Our new play area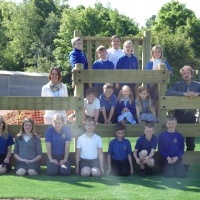 A meeting of the school forum raised the issue of new outdoor play equipment. We are pleased to say that we have been fortunate enough to be able to provide a new outdoor play area.
The new outdoor area is finally complete. Along with a climbing wall, monkey bars and many other features the play equipment is surrounded by a wonderful thick astro turf to protect the children from any bumps and scrapes. The forum members and captains and vice captains enjoyed the first try of it. They had a wonderful time and were very enthusiastic about using it.
We are all very proud of being able to provide this additional play space at our wonderful school.
Pop over to the gallery to see some more pictures.