In this section...
Visit from Dover Councillor Sue Nicholas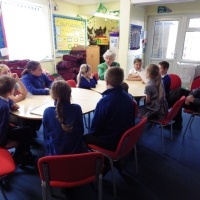 Dover Councillor Sue Nicholas had her first visit to Northbourne Primary school this week.
She had a tour of the school, enjoyed a school dinner with the children and then spent time hosting a question and answer session with our school forum. Councillor Nicholas had a taster session in our Forest School and told us how impressed she was by the extensive grounds around the school.
She said of her visit "It has been a real pleasure, the children have been delighful and the staff very helpful. Please may I return?".